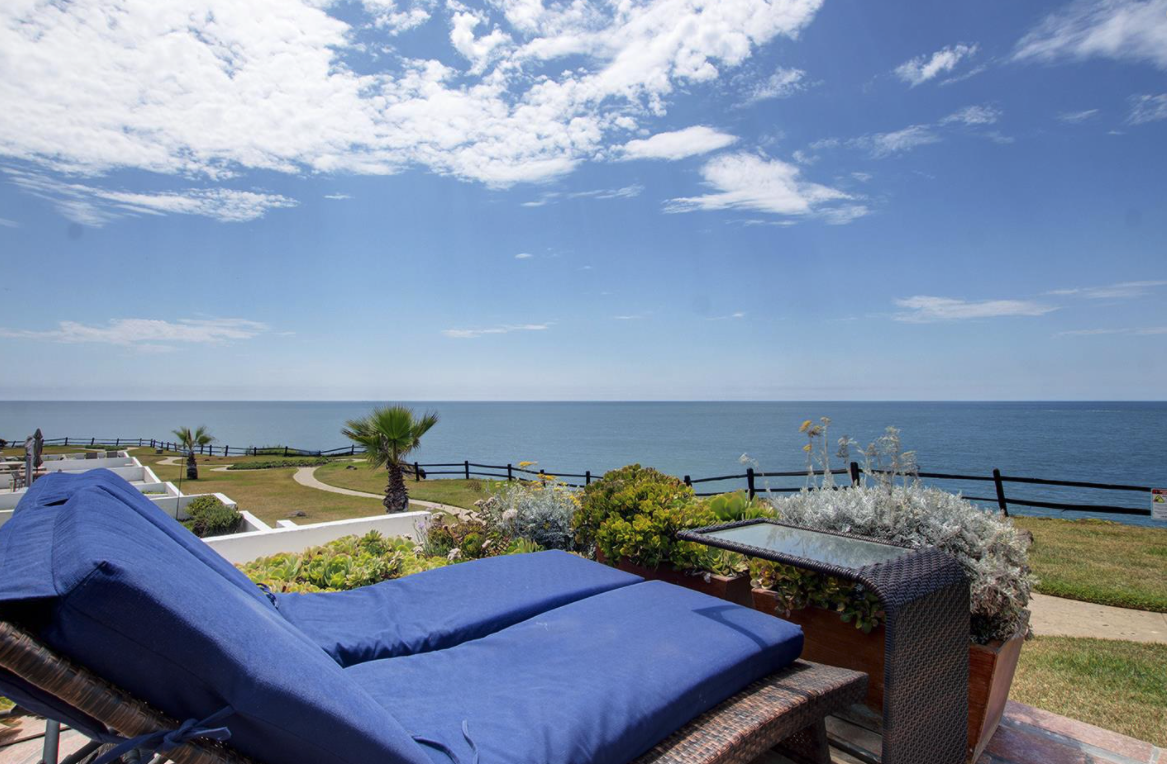 The Views:
The ocean view includes the meandering rugged cliffs close to the lively water. Along the cliffs are well-maintained, gardened, oceanfront walkways that extend the full length of the community.
When you visit this villa you may spot dolphins and seals. Grey whales and other whales migrate in the winter.
The Patio:
You can enjoy all of this view from one of the best, private, oceanfront patios on the coast. The patio has a firepit, short pony perimeter walls, a raised deck, red tiling, transition steps and ramp, a barbecue and pizza oven, lounge chairs, outdoor dining, and more. This is a million-dollar space.
Inside:

3 bedrooms and 2 baths, approximately 1,500 sq. ft. of interior space.
This beautifully appointed Villa has a great room with a wall and corner of glass, offering commanding oceanfront views with panoramic sunsets.
This is a one-of-a-kind property. It comes turnkey furnished with just the right amount of space, beautifully decorated with soft colors, Beach and Mexican art, fully furnished, even tastefully done bull-nosed corners throughout the house, uncommon in Baja properties. It has multiple upgrades throughout.
The property was fully renovated in 2017 with an upgraded kitchen, bull-nosed corners throughout, a new roof, and many custom touches.
The entire ocean-facing side is mirrored glass. Cuts heat in the summer and provide 100% privacy from the outside and spectacular views out
The Master bedroom has full oceanfront views, a spacious closet, and a bathroom with a rolling barn-styled door. The shower is roll-in for easy access.
The Kitchen comes complete will granite counters all appliances including a high-end LG refrigerator.
The great room includes a handsome, locally made fold-out bar armoire for entertaining. The included smart TV is a high-end, curved, big screen with brilliant color. TV was purchased new for $5,000
The ocean-facing patio features a fully tiled, two-tiered deck complete with a barbecue area, a custom-designed fire pit, a lounging and dining area, perfect for entertaining or relaxing with a Margarita at sunset.The front door has a split farm door that opens on top for easy breezes; the third bedroom has a laundry closet with a washer and dryer, a spacious 10x4 storage area, and this home is fully accessible for inside out for a motorized or wheelchair for a disabled individual. This property is ideal for full-time living, as a vacation home, or as a coveted Airbnb property. With limited inventory available on the Baja coast, see this exceptional oceanfront Casa soon. Most of the garage was converted to a third bedroom. The garage still has a normal garage door and it still serves as a very good storage area for surfboards, bikes, gardening tools, etc. Parking is on the driveway.
This villa is 100% handicap accessible.
The Community
Calafia is an oceanfront resort community with three towers and two rows of villas.
In front of the villa is an oceanfront walkway that leads to the villa's clubhouse and pool and beach.
On the north end of the walkway are stairs to a sandy beach.
On the south end of the walkway are the large oceanfront pool, hot tub, and large oceanfront viewing patio. There is also a clubhouse at the pool area, large enough for your guests, with a seating and gaming area, like ping pong.
Included with this villa is access to two pools, 3 hot tubs, workout gym, clubhouse, gardening and maintenance of the oceanfront walkway, stairs down to the sandy beach, and more.
Calafia also has 24-hour security, a gated entrance, and on-site community management.
The Location:
Calafia is located about 40 minutes south of the San Diego and Tijuana border, and about 10 minutes south of downtown Rosarito.
Within 5 minutes are many restaurants. You will find tacos, sushi, excellent seafood, Sunday breakfast buffets, brick oven pizza, etc. Several places have live music on the weekends.
There are large supermarkets in Rosarito and a supermarket at Puerto Nuevo, the lobster village, 5 minutes south.
Surfing is everywhere. Hiking is now on the map with excellent trails. Wineries and amazing food abound in the Guadalupe Valley.
Copy and paste these coordinates into a Google Satellite map to get the exact location:
32.271426014710926, -117.0251293979691
Showings:
24-hour notice is best.
Title and HOA:
This villa's title is held in an assumable bank trust.
The monthly fees are $170.
Price:
$435,000